15
Sep
2020
Published by Bonnita Calhoun Comments Off on New Vehicle Wraps Beautify Advanced Property Builders' Van And Trailer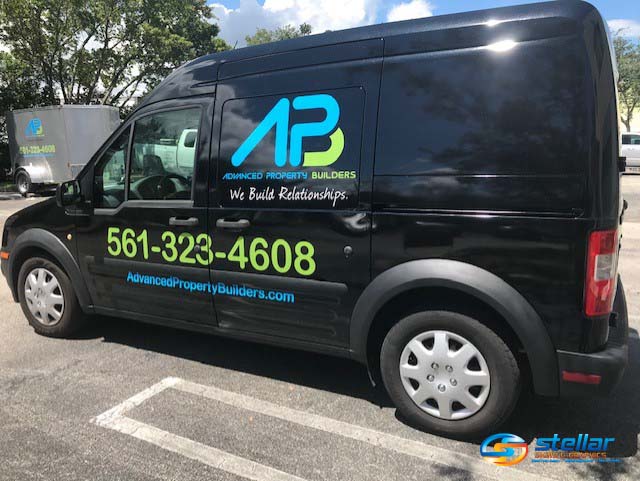 West Palm Beach, Florida's Advanced Property Builders specialize in home remodeling, project management and new construction. They are experts at providing your kitchen with a refresh, custom-designing new cabinetry, renovating bathrooms and resurfacing pool decks. To be honest, we're only just scratching the surface by listing these services! APB provides all that you need to beautifully remodel or update your property.
They also pride themselves on developing strong customer relationships. "Our relentless pursuit of perfection and unwavering customer service is what makes us stand out from the rest," they proudly exclaim on their company website, "Our mission is to build our company by building relationships. By putting the client first and delivering personalized service from the design stage to the finishing touches."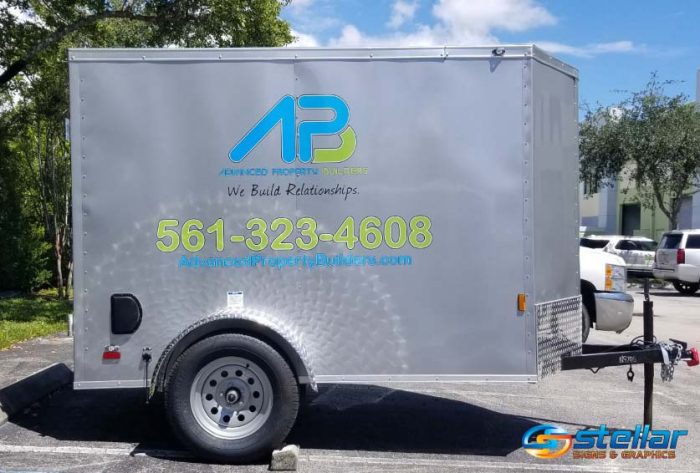 Check out the new APB vehicle wrap project!
The Stellar Signs & Graphics team is elated to have completed a brand new vehicle wraps and lettering project for Advanced Property Builders. Earlier this month, we beautified both their Ford Transit Connect van and its ten-foot cargo trailer. Both projects consist of full-color print designs with UV lamination. They were contoured cut and installed on the same day.
The design for both the van and the trailer includes the Advanced Property Builders logo. It also displays the company's phone number, website and motto, "We Build Relationships". Notably, the designs on the rears of each vehicle also contain special QR codes that everyone can scan to get immediate access to the APB site. It's such a cool feature!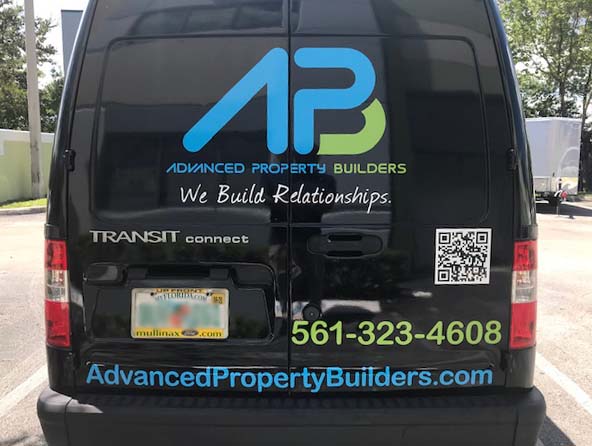 Vehicle wraps are marketing wonders!
Our team is extremely confident that the newly-designed van and trailer will go a long way in attracting much more attention to Advanced Property Builders. As we've long heralded, vehicle wraps and lettering projects have been proven to be extremely effective marketing tools. Not to mention, they are incredibly cost-effective.
As IdentifyYourself.ca showcases via an infographic, vehicle wraps earn companies upwards of 1.26 million impressions per year. No other form of signage or marketing even comes close to providing advertisers with that much exposure.
"Unlike billboards and advertisements that have consistent reoccurring costs for as long as you advertise, you can change your vehicle wrap as little or as often as you like for less money," says the website, "You can make an initial investment for a fraction of the cost of other long term advertising campaigns and generate results for years."
Let's get to work on a vehicle wrap and lettering project for your company!
The experts at Stellar Signs & Graphics serve the business communities in and around Palm Beach County, West Palm Beach, Royal Palm Beach, Wellington, Lake Worth, Boynton Beach, and Greenacres, Florida. Give us a call at 561-721-6060 today!


Tags: Advanced Property Builders, advertising, branding project, Florida, marketing, vehicle wraps, Vehicle Wraps and Lettering, West Palm Beach


Categorised in: Van Wraps, Vehicle Graphics, Vehicle Graphics Palm Beach County FL, Vehicle Wraps, Vehicle Wraps Palm Beach County FL

This post was written by Bonnita Calhoun