8
May
2018
Published by Bonnita Calhoun Comments Off on Our Latest Vehicle Window Wrap Project Has Us Beaming With Pride!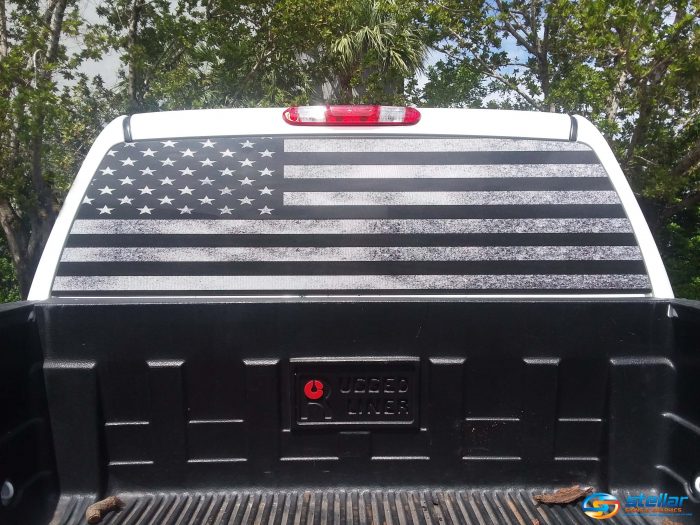 It doesn't take the Fourth of July in order for the team at Stellar Signs & Graphics to be proud of our nation. And the same goes for our great clients, colleagues and neighbors. However, perhaps because Memorial Day is coming up at the end of the month, we're noticing a little bit of a boost in local American pride lately.
More and more stars and stripes are adorning the front lawns of homes, as you might expect. But, these days, people tend to get a little more creative with the ways in which they choose to display their United States of America flags. Taylor is one of those creative individuals. One of our esteemed business neighbors, she has recently been trying to install a uniquely designed American flag on her Chevy pickup truck's back window to no avail.
Firstly, allow us to just state that this flag design is awesome! It's a black and white motif that incorporates a somewhat rustic, smoky presentation of the stripes. It's really cool, to say the least – we wish that we had designed it! And while the unique display of American pride wasn't our brainchild, we were thrilled to help Taylor finally affix the design to her truck's rear window in no time.
You can see the results in the photo above and the photo below!
As you're likely aware, Vehicle Wraps and Lettering is one of our specialties, here at Stellar Signs & Graphics. We have a long history of affixing full wraps, partial wraps, spot graphics and lettering to cars, trucks, vans, motorhomes, bikes, boats and more! No matter the vehicle, we'll wrap it for you! Business owners all over South Florida have enjoyed the benefits of vehicle wraps as they offer the most impact for their advertising dollars.
As we've revealed in past blogs, the cost per thousand impressions for vehicle wraps is a measly $0.35. Compare that to $3.65 per thousand impressions for a billboard! However, as our friend Taylor discovered first-hand, Stellar Signs & Graphics is happy to help you professionally wrap your vehicle whether it's for business purposes or not.
Looking to express your American pride?
Have us affix your uniquely designed symbol of patriotism to your vehicle! The experts at Stellar Signs & Graphics serve the communities in and around Palm Beach County, West Palm Beach, Royal Palm Beach, Wellington, Lake Worth, Boynton Beach, and Greenacres, Florida. Please don't hesitate to give us a call at 561-721-6060 today!


Tags: American flag, pickup truck, vehicle wraps, Vehicle Wraps and Lettering, window graphics, window wrap


Categorised in: Vehicle Graphics, Vehicle Wraps, Vehicle Wraps Palm Beach County FL, Vinyl Graphics

This post was written by Bonnita Calhoun