31
Jul
2018
Published by Bonnita Calhoun Comments Off on Our Vehicle Wraps Continue To Rock!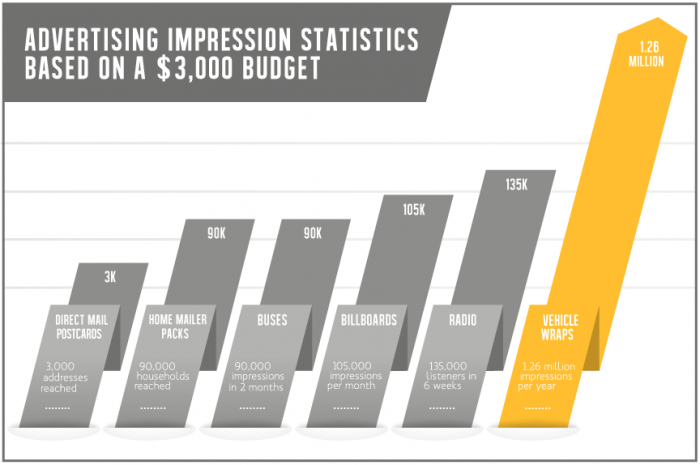 How often have you been stuck in traffic? It's a life annoyance that no driver can ever really avoid. However, as a business owner, traffic can be a great thing! When you make use of vehicle wraps to advertise your brand, you stand the chance of attracting millions of eyes per year. In fact, an infographic published by the Canadian-based Identify Yourself website, shows that vehicle wraps far outdo all other forms of advertising when it comes to getting more bang for your buck.
Vehicle wraps generate over a million impressions per year!
"Research shows that Americans are on the road more than ever," says the website, "This makes using your company car as a billboard an ideal choice." As the infographic shown above makes clear, there's no question that vehicle wraps are ideal marketing choices. Based on a $3,000 budget, vehicle wraps advertising generates 1.26 million impressions per year!
Compare that to 135,000 listeners in a six-week run of a radio ad or 105,000 impressions for a billboard that's been up for a month. It's important to note that once your advertising budget is spent on a vehicle wrap, it literally lasts for the life of that vehicle. Consider the fact that all other forms of advertising have shelf lives, as they are only good for so long.
Vehicle wraps extend your advertising potential.
As IdentifyYourself.ca highlights, vehicle wrap advertising allows you to reach more people more often. "It's possible to achieve up to 70,000 visual impressions per day for each wrapped vehicle in your fleet," the site explains, "This number increases the more you travel. In addition, 35 percent of the people who see these wraps look closely at the brand and advertising. And, 29 percent of viewers say this type of marketing has influenced their buying decisions."
The Stellar Signs & Graphics team recently had the pleasure of working on a vehicle wrap project for Palm Beach Tree & Landscape. Take a look at the final product below! In just one day after completing this project, we received a phone call from someone who saw the truck. We also know that Palm Beach Tree & Landscape is already enjoying a newfound buzz for its company, thanks to its new sleekly designed truck.
Let's get to work on your vehicle wrap!
The experts at Stellar Signs & Graphics would be more than happy to start designing a vehicle wrap for your company vehicle! We serve the business communities in and around Palm Beach County, West Palm Beach, Royal Palm Beach, Wellington, Lake Worth, Boynton Beach, and Greenacres, Florida.

Give us a call at 561-721-6060 today!


Tags: advertising, brand image, moving billboards, Palm Beach Tree & Landscape, vehicle wraps, Vehicle Wraps and Lettering


Categorised in: Vehicle Vinyl Lettering, Vehicle Wraps, Vehicle Wraps Palm Beach County FL

This post was written by Bonnita Calhoun