3
Nov
2020
Published by Bonnita Calhoun Comments Off on Roy Smith Screens & Shutters, Inc. Take The Clever Route With Their Vehicle Wrap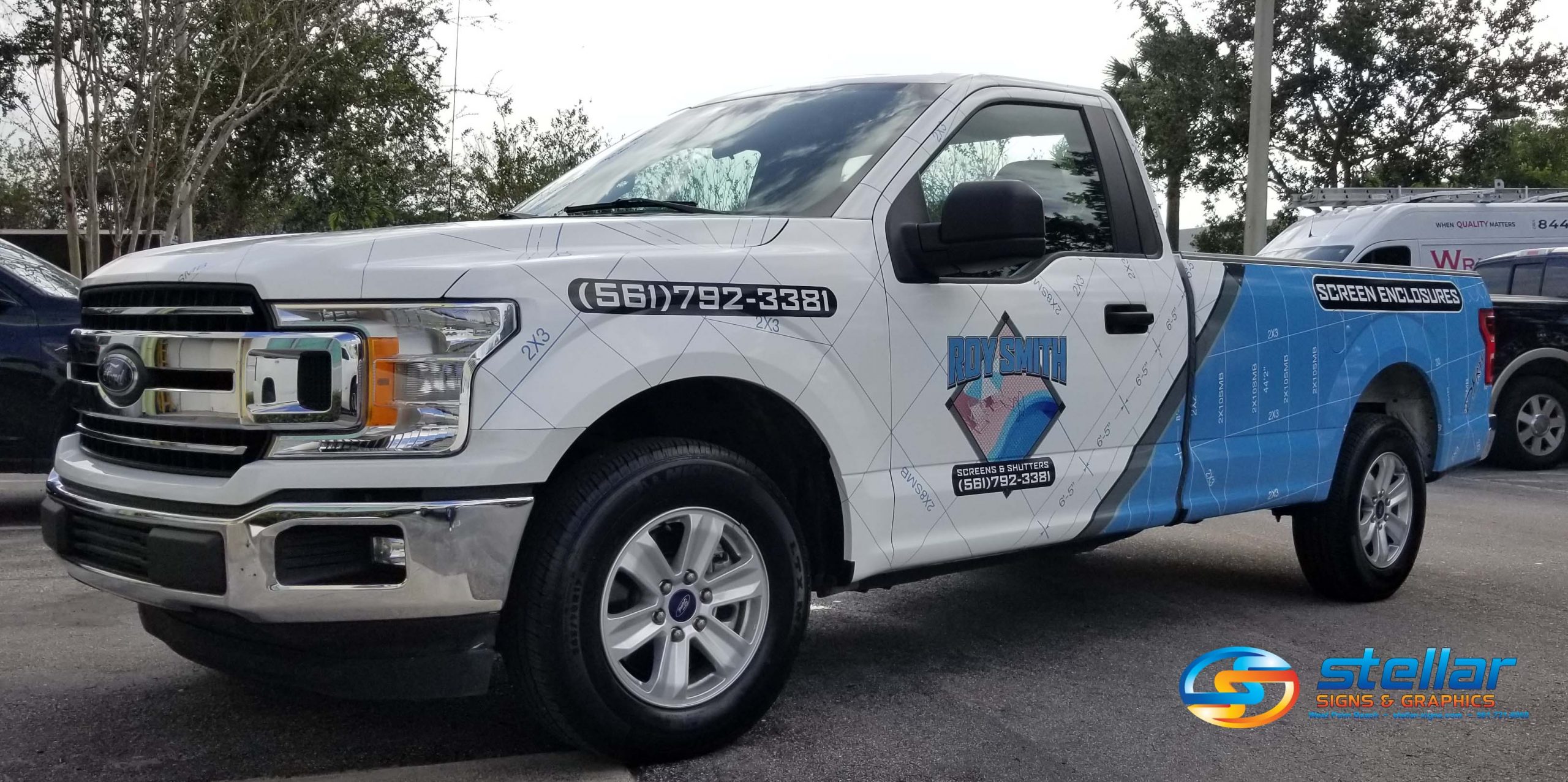 West Palm Beach residents are no strangers to the perils presented by hurricane season. This is why we take protecting our homes from inclement weather so seriously. Hiring the right contractor makes all the difference in the world when it comes to a building project. The Stellar Signs & Graphics team is glad to know that Roy Smith's Screens & Shutters, Inc. takes pride in providing the best and most efficient services available in our community.
"Our employees are as equally proficient as they are dedicated to their craft allowing the quality and integrity of our work to speak for itself," their website proudly proclaims. Our mission is to get the job done the right way, on time, every time. Here, the customer comes first. We are not satisfied with the job until you are."
Check out the new Roy Smith Screens & Shutters, Inc. vehicle wrap!
At Stellar Signs & Graphics, we also insist on getting the job done the right way. And we're incredibly proud of the recent vehicle wrap project we completed for Roy Smith Screens & Shutters, Inc. As you can see in the photos both above and below, the company's Ford pickup truck now boasts an amazing new design that is as inventive as it is eye-catching.
First, the vehicle wrap clearly displays the company's phone number – not once, but twice. It appears on both the doors and front ends of each side of the vehicle. The phone number is also dominantly displayed on the back of the truck. Of course, the company's name and logo also appears with "Screen Enclosures" plastered on both sides of the truck's rear end.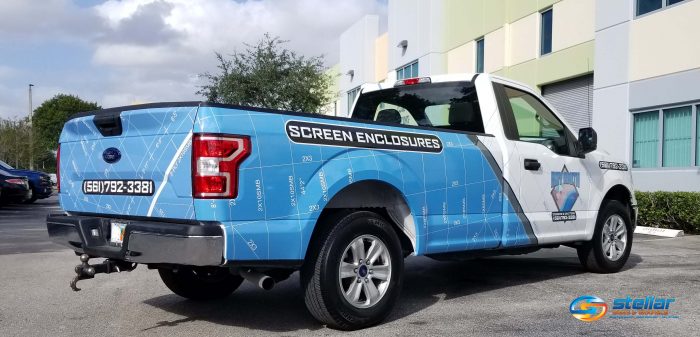 The pickup truck has a very clever design!
Naturally, the contact information is important to making the Roy Smith Screens & Shutters, Inc. pickup truck an effective marketing tool. However, the cleverness of the vehicle wrap design makes it one of our absolute favorites! You'll notice that the truck embodies a full wrap. The entire vehicle now incorporates what appears to be the layout of a contractor's work. Various blocks displaying different dimensions are uniquely placed all over the truck. We just love how it looks!
Roy Smith's Screens & Shutters, Inc. has been servicing South Florida for over ten years. And we see a very bright next decade for this great company. Their newly-wrapped pickup truck is guaranteed to attract eyes and turn heads. As research has shown, vehicle wraps are excellent at helping businesses gain greater attention.
According to a Green Image Marketing report, American Trucking Associations found that 98% of in-car audiences indicated they noticed truck-side ads.
Let's get to work on a vehicle wrap for your business!
The experts at Stellar Signs & Graphics serve the business communities in and around Palm Beach County, West Palm Beach, Royal Palm Beach, Wellington, Lake Worth, Boynton Beach, and Greenacres, Florida. Give us a call at 561-721-6060 today!


Tags: contractor, Inc., marketing, mobile advertising, pickup truck, Roy Smith Screens & Shutters, vehicle graphics, vehicle wrap, Vehicle Wraps and Lettering


Categorised in: Vehicle Graphics, Vehicle Graphics Palm Beach County FL, Vehicle Wraps, Vehicle Wraps Palm Beach County FL

This post was written by Bonnita Calhoun