16
Jul
2019
Published by Bonnita Calhoun Comments Off on Snap Frame Banners Are Great Ways To Announce Your Arrival!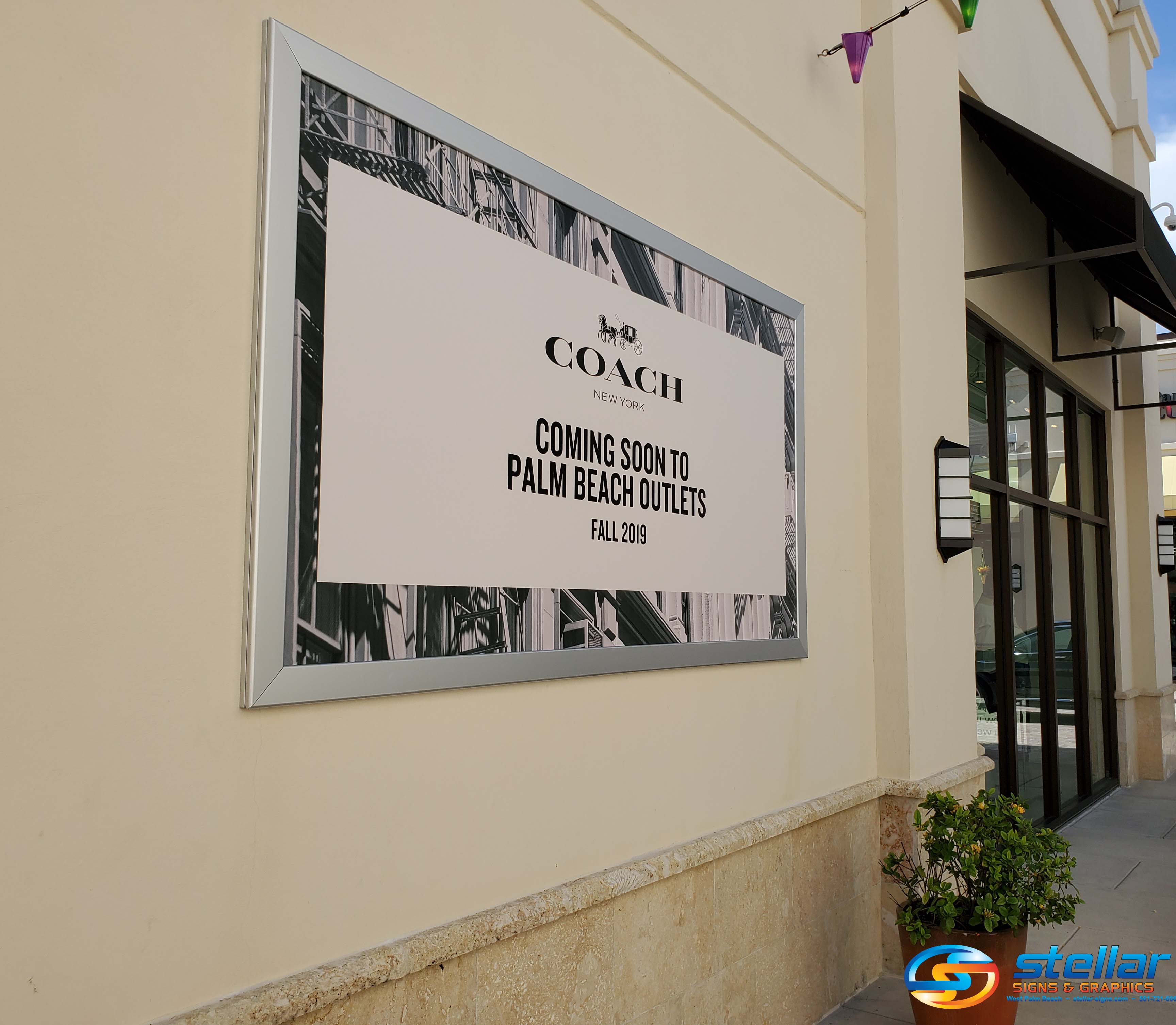 The team of signage experts, here at Stellar Signs & Graphics, has had the distinct pleasure of completing a myriad of signage projects for various clients with stores that are part of Palm Beach Outlets. We simply love that mall! With so many great places to shop, it not only provides the perfect place to go shopping, it also is a wonderful venue to work with.
Most recently, we completed two snap frame banners to highlight the forthcoming presence of two of the mall's newest stores, Coach and Kate Spade. The frames are made from anodized aluminum with spring tension systems that hold the banners in place. Both are mounted directly into the walls
These frames are awesome!
As their name implies, they easily snap open to allow us to place the banners inside. Once that's done, we set the clamps and close the frame. Inside the banner-stretching frame, the clamps are adjustable so that any "waviness" can be removed. The final result is a perfectly smooth graphic. The system also comes with the option to be back-illuminated.
Excellent for use both indoors and out, our snap frame banners ensure that no corrosion or rust will ruin the sign. They come available in either anodized silver or powder coated finishes and can be custom-cut for any size banner up to 24'. That means no unsightly seams for a flawless presentation every time!
Our banners are made in house!
For the Coach and Kate Spade banners, we printed the full-color 108″ W X 60″ H banners in house and our team installed everything. There are more stores to come to Palm Beach Outlets, so we'll be busy completing some more snap frame banners to announce their impending arrivals soon.
If you're looking for a cost-effective way to promote your business, you certainly can't go wrong with a snap frame banner. Because it is a fairly quick and easy process to manufacture these banners, they are very affordable. Their relatively low costs make it easy for businesses of all sizes to use banner marketing to their advantage.
Banners are also very versatile as they come in various sizes and shapes and can be customized to suit your company's specific needs. This versatility gives you the ability to stand out from your competition with a marketing initiative that utilizes different sizes and styles than your competitors.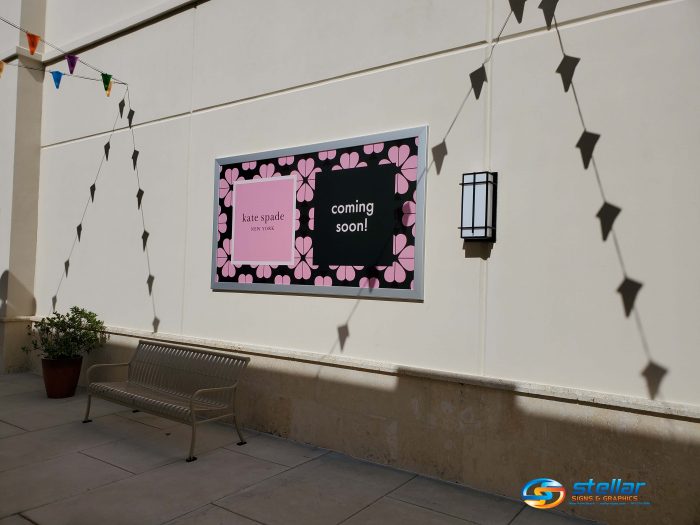 Let's get to work on a snap frame banner for your company!
The experts at Stellar Signs & Graphics serve the business communities in and around Palm Beach County, West Palm Beach, Royal Palm Beach, Wellington, Lake Worth, Boynton Beach, and Greenacres, Florida. Please don't hesitate to give us a call at 561-721-6060 today!


Tags: banners, Coach, Kate Spade, Palm Beach Outlets, snap frame, snap frame banners, West Palm Beach


Categorised in: Backdrop Banners, Banners, Event Banners, Signs for Mall Stores, Snap Frame Banners

This post was written by Bonnita Calhoun