1
Dec
2020
Published by Bonnita Calhoun Comments Off on Taking A Look Back At Some Of Our Recent Vehicle Wrap Projects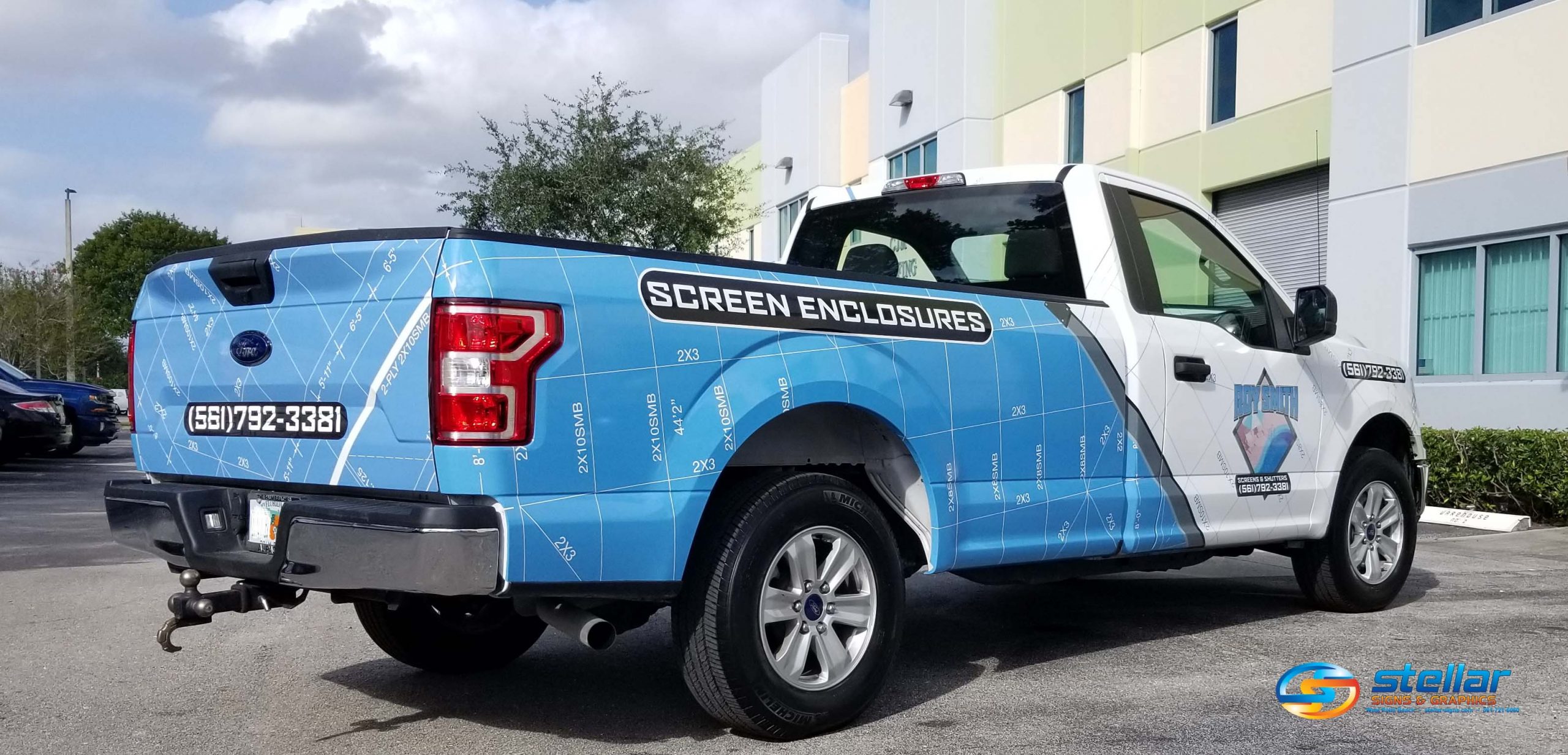 As we enter December today, we can't help but expel a small sigh of relief that 2020 is just a month from being over. Needless to say, it's been a tough year on all of us. Nevertheless, this past Thanksgiving, our family was thankful for the fact we have our health intact and our business functioning. We consider ourselves to be among the lucky ones who have been able to keep our company going and our employees working.
Even as we look ahead to 2021, we'd like to take a moment to look back at some of our positive 2020 experiences. Unquestionably, vehicle wraps and lettering have remained incredibly popular as marketing methods for businesses of all sizes. This past year, we completed some of our favorite branding projects for a number of incredible companies.
Check out the Roy Smith Screens & Shutters, Inc. vehicle wrap!
As you can see in the photo above, the Roy Smith Screens & Shutters, Inc. Ford pickup truck boasts an awesome new design that is equal parts informational and eye-catching. To begin with, the vehicle wrap clearly displays the company's phone number on both the doors and front ends of each side of the vehicle. The phone number is also prominently displayed on the back of the truck.
However, what makes the wrap so cool is that its design appears to be the layout of a contractor's work. Various blocks display different dimensions all over the truck!
Check out the Advance Property Builders vehicle wrap!
Back in September, we beautified a Ford Transit Connect van and its ten-foot cargo trailer for Advance Property Builders . Both projects consist of full-color print designs with UV lamination that were contoured cut and installed on the same day. The design for both the van and the trailer includes the APB logo plus the company's phone number, website and motto, "We Build Relationships".
The coolest part about this wrap, however, is the QR code that appears on the back of each vehicle. People can scan it to get immediate access to the APB site!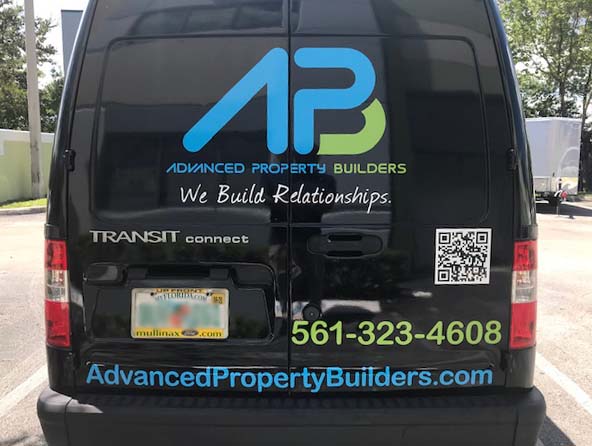 Check out the Friends of Palm Beach pickup truck!
The vehicle wrap design for Friends of Palm Beach was designed by graphic designer, Melanie Haskell. Our team completed the printing and installation. The beautifully-designed vehicle wrap displays Friends of Palm Beach's declaration of being a non-profit organization and, of course, their website and phone number.
More importantly, however, the vehicle wrap also conveys the organization's mission statement: "Be the change you wish to see in the world". It also does this through a "clean" look featuring a pollutant-free beach and pure blue waters.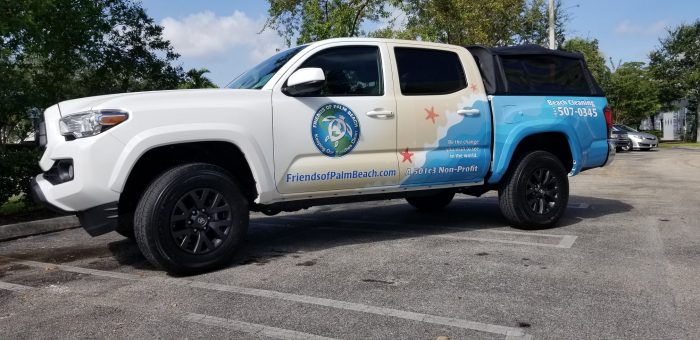 Do you have a vehicle our team can beautify with your message?
The experts at Stellar Signs & Graphics serve the business communities in and around Palm Beach County, West Palm Beach, Royal Palm Beach, Wellington, Lake Worth, Boynton Beach, and Greenacres, Florida. Please don't hesitate to give us a call at 561-721-6060 today!


Tags: Advanced Property Builders, Friends of Palm Beach, graphic design, pickup truck, Roy Smith Screens & Shutters, vehicle graphics, vehicle wrap, Vehicle Wraps and Lettering


Categorised in: Van Wraps, Vehicle Graphics, Vehicle Graphics Palm Beach County FL, Vehicle Wraps, Vehicle Wraps Palm Beach County FL

This post was written by Bonnita Calhoun