9
Feb
2021
Published by Bonnita Calhoun Comments Off on The Art Of Transforming Your Vehicle Into A Money Maker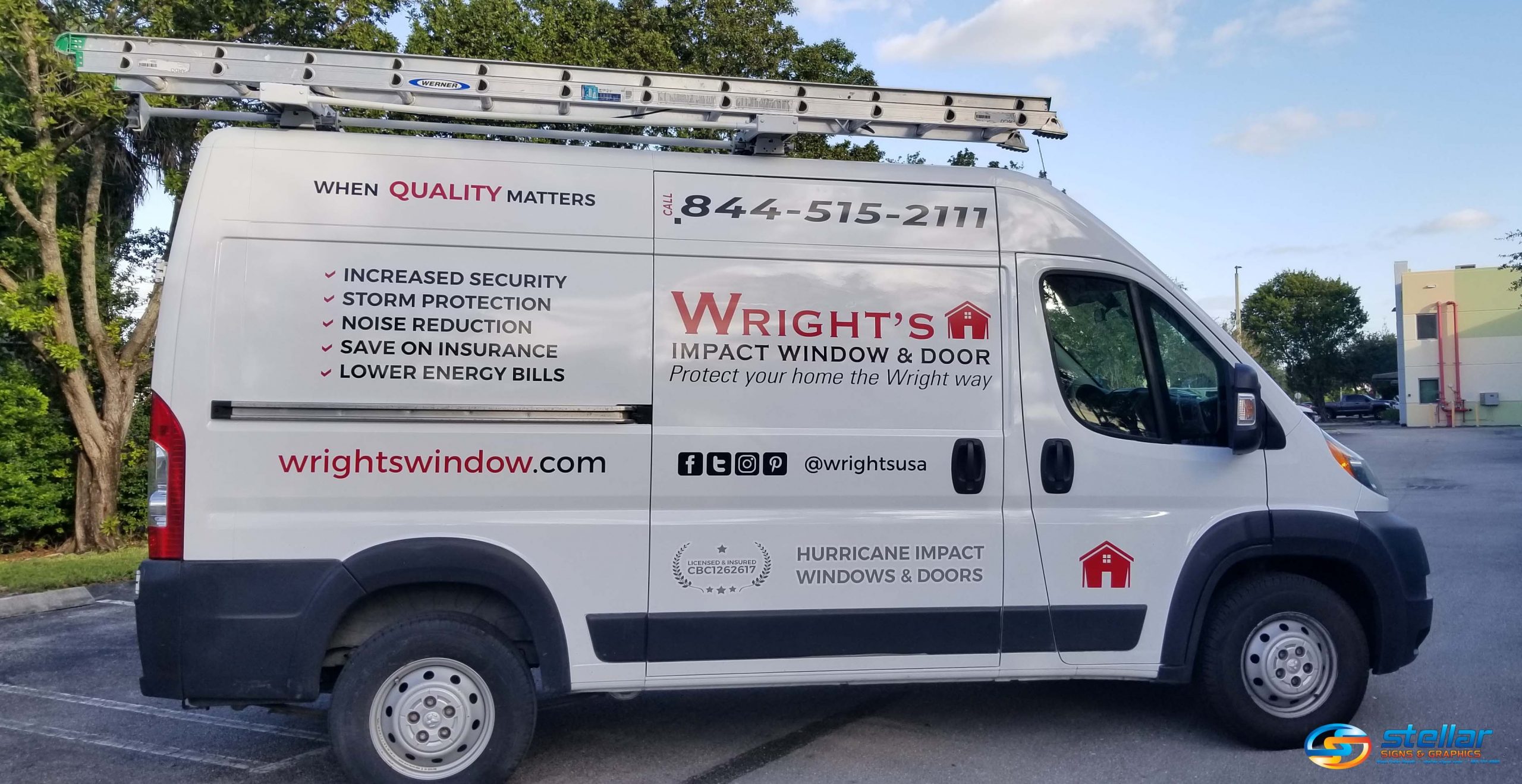 What type of vehicle do you drive? No matter if it's a car, truck, van, bus or even a boat, your vehicle can be transformed into a money-making marketing machine. At Stellar Signs & Graphics, we have long heralded the benefits of vehicle wraps and lettering. Studies have shown that this form of advertising gives companies the best value for their investments.
Statistically, advertisers pay only 35 cents per 1,000 impressions with vehicle wraps. Compare that to $3.56 per 1,000 impressions for traditional, non-moving billboards. Just imagine the impact your newly wrapped company vehicle can have on your community! Let's take a look at a couple of the vehicle wrap projects our team completed in 2020.
The Wright's Impact Window & Door van.
Last year, we had the honor of manufacturing a new vehicle wrap for Wright's Impact Window & Door. This great company is dedicated to protecting your home and your family from both storms and intruders. They offer a full range of both hurricane windows and hurricane doors in South Florida. All of their products are designed to withstand 200+ mph winds, while also combining function and style.
To transform their van into a moving billboard, we used cut 3M color vinyl in red, black and gray. Previously, the van's original plain white state made it blend in with all other traffic. It caught no one's attention. With the completed vehicle wrap, the van now attracts eyes and skilfully informs onlookers all about the business.
The vehicle wrap for Wright's Impact Window & Door includes the company's name and logo as well as its website, social media handles and phone number. In 2021, providing this information is vital for companies that wish to attract larger audiences.
The Wildcat Demolition trailer.
The Stellar Signs & Graphics team also had the pleasure of working with Wildcat Demolition last year. They specialize in large, management-intensive demolition projects. Created in 1980 by a third generation demolition family, Wildcat Demolition is renowned throughout the Southeast for their technical expertise, productivity, reliability and track record.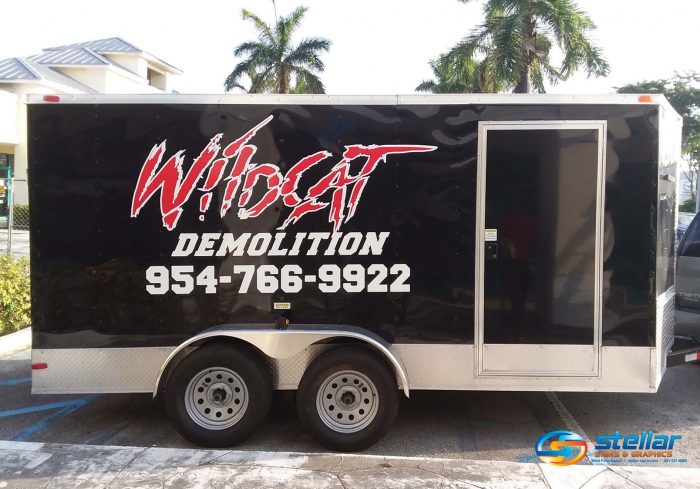 Our team took the Wildcat Demolition trailer and created a sleek and simple wrap showcasing their company logo and phone number. Our team used a full color print with 3M IJ40C vinyl and 3M 8509 lamination.
Are you ready to transform your company vehicle into a money maker?
Please don't hesitate to reach out to the signage experts at Stellar Signs & Graphics. We serve the business communities in and around Palm Beach County, West Palm Beach, Royal Palm Beach, Wellington, Lake Worth, Boynton Beach, and Greenacres, Florida. Give us a call at 561-721-6060 today!


Tags: marketing, moving billboards, trailer, van, vehicle wraps, Vehicle Wraps and Lettering, Wright's Impact Window & Door. Wildcat Demolition


Categorised in: Van Wraps, Vehicle Graphics, Vehicle Vinyl Lettering, Vehicle Wraps, Vehicle Wraps Palm Beach County FL

This post was written by Bonnita Calhoun