22
Oct
2019
Published by Bonnita Calhoun Comments Off on The Importance Of Repairing And Refurbishing Your Storefront Signage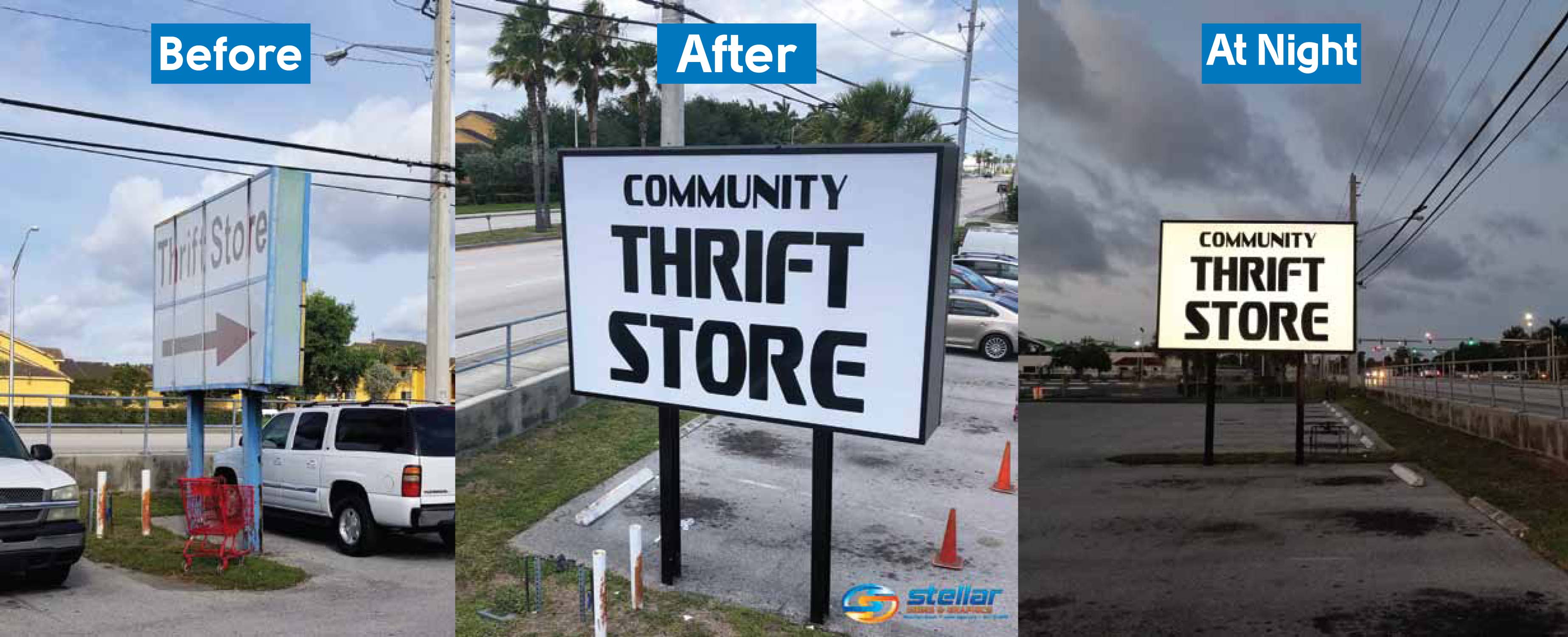 That sign out in front of your store – what does it say? No, we're not talking about what it literally says. Clearly, it's the name of your business. Allow us to be clearer – what does your storefront sign say about your business? Does it say that your brand is "fresh", "exciting" and "innovative"? Or does your sign declare that your company is "old", "outdated" and "out of the loop"?
The difference between the two messages to the public is how well-kept your storefront signage is. If you allow it to go too long without any updates or repairs, you're communicating the latter. Naturally, that's bad for your business. Maintaining and even growing good impressions of your brand is imperative to its success.
This is particularly true, here in South Florida. We live and work in a part of the country that is known for its hurricane seasons. As a result, outdoor signage often takes the brunt of inclement weather. Clearly, some repairs are necessary, every now and them. Without performing such repairs, a company could potentially communicate to the public that it is potentially going out of business.
Think about it from the customer's point of view.
"If you are going for shopping and see a business signage that is old and cracked, are you likely to trust in the products that they have to offer?" asks Mississauga, Ontario, Canada's Signs Den, "Probably Not!! Therefore, a good quality sign should always be neat and bright that can help you to gain new customers and convey the high standards of your business. Poor quality or damaged signage may fail to covey your brand and can turn off potential customers."
When you repair or refurbish your company's old signage, it helps to provide that "new" factor. Updated signage gives your place of business many more opportunities to have customers walk through its doors. If you're looking to turn heads and pique more interest in those who live and work in the area where you operate your business, a top-notch looking storefront sign is practically a must!
Even if you've been operating in the same location for many years, an updated sign will spark new interest from people who may have walked passed your store countless times in the past.
Contact our team of signage experts today!
Please don't hesitate to contact Stellar Signs & Graphics if you'd like to repair or refurbish your company's signage. We proudly serve the business communities in and around Palm Beach County, West Palm Beach, Royal Palm Beach, Wellington, Lake Worth, Boynton Beach, and Greenacres, Florida. Give us a call at 561-721-6060 today!


Tags: refurbished signs, sign refurbishing, sign repair, storefront signage, storefront signs


Categorised in: Refurbished Signs, Sign Refurbishing, Sign Restoration

This post was written by Bonnita Calhoun