12
Dec
2017
Published by Bonnita Calhoun Comments Off on Vehicle Wraps Are The Most Cost-Effective Ways To Advertise Your Business!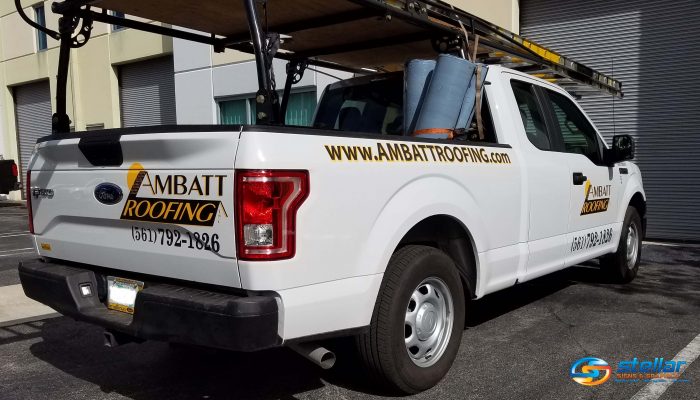 In case you haven't noticed, the Stellar Signs & Graphics team is incredibly proud of the many signage products it has designed and manufactured for our company's clients. We know that by completing these great signage projects, we're helping businesses in the West Palm Beach, Florida area grow their reach, increase the sizes of their customer bases and boost their sales.
Of the many signage products we offer, vehicle wraps and lettering can be argued as the most cost-conscious and effective. The obvious advantage they have over others types of signs is their ability to move around all over town! Vehicles that are beautified with vehicle wraps displaying company logos, contact information and other branding materials help to bring much greater exposure to the businesses that utilize them.
The statistics say it all!
As we've highlighted before, an infographic on Hubspot.com reveals the findings of a 2010 study conducted by Arbitron, Inc. It clearly shows how other forms of signage are no matches for vehicle wraps when it comes to giving businesses more bang for their advertising bucks. The infographic shows that vehicle wraps cost business owners a mere 35 cents per thousand impressions!
By comparison, business owners pay an average of $23.70 per thousand impressions for television commercials, $21.46 for magazine ads and $7.75 for radio spots. When it comes to other outdoor signage, $3.56 per thousand impressions is the standard cost. Now, that's still a pretty good deal! However, vehicle wraps and lettering – the type of signage that can advertise your brand in limitless locations – is still the most cost-effective way to advertise.
Check our recently completed vehicle wrap projects!
We recently completed a Print Cut Full Color Vinyl Branding project for Ambatt Roofing! As you can see in the picture up above, the company can no longer drive their pickup truck without exposing their company logo, phone number and website to all other drivers and pedestrians. We're elated that Ambatt Roofing now enjoys non-stop advertising wherever they travel with that vehicle.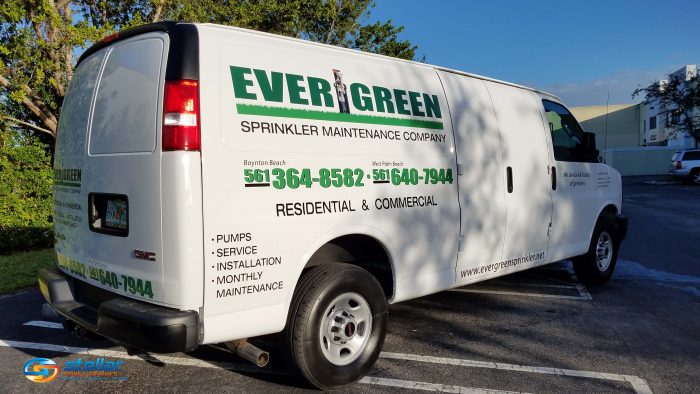 We also recently completed a vehicle project for Evergreen Sprinkler Maintenance Company. As you can see in the picture just above, their 2017 GMC Van is now an excellent marketing machine that includes the company's business name, logo, contact information and service description. With all of this great marketing material emblazoned on their company vehicle, Evergreen is now enjoying the benefits of having a moving billboard attract attention to their brand.

We invite you to contact us before the holidays to discuss the design of a vehicle wraps and lettering project for your company vehicle. The experts at Stellar Signs & Graphics serve the business communities in and around Palm Beach County, West Palm Beach, Royal Palm Beach, Wellington, Lake Worth, Boynton Beach, and Greenacres, Florida.

Give us a call at 561-721-6060 today!


Tags: moving billboards, vehicle lettering, vehicle wraps, Vehicle Wraps and Lettering


Categorised in: Vehicle Vinyl Lettering, Vehicle Wraps, Vehicle Wraps Palm Beach County FL

This post was written by Bonnita Calhoun