25
Jul
2017
Published by Bonnita Calhoun Comments Off on Vehicle Wraps And Lettering Give Your Advertising The Most Impact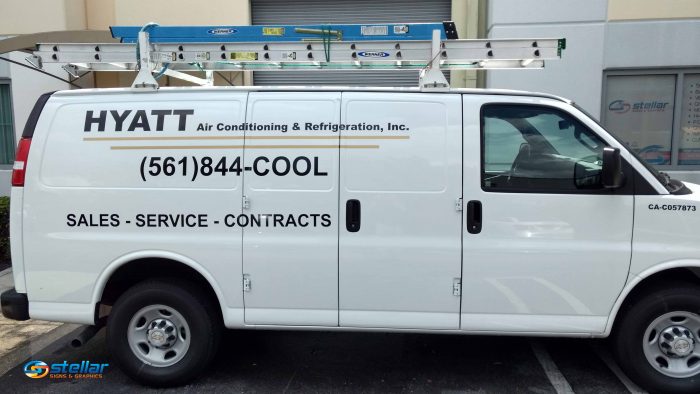 Last week, we completed a marvelous vinyl lettering project for Hyatt Air Conditioning & Refrigeration Inc. We used black and gold cut vinyl to sleekly display the company's name, phone number and service information on the sides and back of their white company van. The minimalist approach to this design helps for it to be very visible and easily read by drivers and pedestrians alike.
The project reminds us of just how effective an advertising method vehicle wraps and lettering really is. Depending on where you happen to drive your uniquely-designed company vehicle, your advertisement can produce upwards of 60,000 impressions a day! That provides you with massive advertising power that is far less expensive than traditional routes such as television commercials, magazine ads and radio spots.
Check out the statistics!
Even billboards and other outdoor signage can't match the incredibly low cost per impression that vehicle wraps and lettering provide. But you don't have to take our word for it! A 2010 study completed by Arbitron, Inc. and shared via an infographic on Hubspot.net confirms that vehicle wraps only cost business owners a paltry 35 cents per thousand impressions!
Compare that to the cost of $23.70 per thousand impressions for television commercials, $21.46 for magazine ads and $7.75 for radio spots. Even other outdoor signage carries a cost of $3.56 per thousand impressions. And by all standards, that's quite a bargain. The difference with vehicle wraps and lettering, of course, is that it's the type of signage that moves all around your city!
Small on cost, big on effectiveness!
Uniquely designing your company vehicle with your business logo and information helps you to enjoy long-lasting, cost-effective advertising. Think about it. Television commercials, magazine ads and radio spots generally run for about, how long? A week? A month maybe? How many times do they really get seen or heard? Is it really worth what they cost? The evidence says no.

Vehicle wraps and lettering, however, is an advertising source that provides you with years and years of marketing power. The vehicle wrap experts at Stellar Signs & Graphics would be happy to help you take advantage of the statistics. We serve the business communities in and around Palm Beach County, West Palm Beach, Royal Palm Beach, Wellington, Lake Worth, Boynton Beach, and Greenacres, Florida. Give us a call today at 561-721-6060 to discuss turning your truck, car, trailer or boat into an advertising powerhouse!


Tags: cost per thousand impressions statistics, truck lettering, vehicle wraps, Vehicle Wraps and Lettering, vinyl lettering


Categorised in: Truck Graphics, Truck Lettering, Van Wraps, Vehicle Graphics, Vehicle Graphics Palm Beach County FL, Vehicle Vinyl Lettering, Vehicle Wraps, Vehicle Wraps Palm Beach County FL

This post was written by Bonnita Calhoun