31
Oct
2017
Published by Bonnita Calhoun Comments Off on Vehicle Wraps Provide The Most Bang For Your Advertising Bucks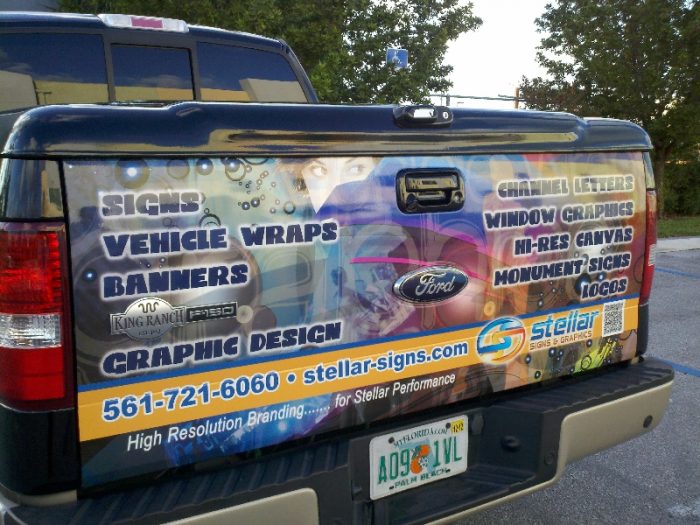 Vehicle wraps are among the most effective possible ways to advertise your business! We stand firmly behind this statement because of our many years of experience with designing vehicle wraps for our amazing clients. We regularly receive reports that detail just how much more business they've been able to attain by having their company vehicles wrapped in their unique designs that incorporate their contact information.
"There's nothing better than having a mobile billboard to advertise your business!" we often hear them tell us. But you don't have to take our word for it – or even our clients' words for it – because the statistics say it all! Hubspot.net reports that vehicle wraps outdo all other forms of advertising by providing the least expensive cost per thousand impressions. Vehicle wraps lead the pack by costing a paltry $0.35 per thousand impressions. In second place: outdoor signage at $3.56.
Vehicle wraps help you to bypass restrictions.
One of the greatest aspects of vehicle wraps (that doesn't seem to be talked about a whole lot) is the fact that they do not require business owners to jump through any hoops. Billboards, for example, have particular restrictions that have to do with their rates, timing and placements. Moving billboards, on the other hand, are free from any restrictions!
With vehicle wraps, business owners can design their cars, trucks, vans, trailers and boats any way they see fit. They can then drive those vehicles anywhere they choose to bring their advertising campaigns to thousands of new people each and every day. People who bear witness to vehicle wraps are commonly other drivers and regular commuters. These are individuals who tend to have jobs – also known as people who can afford to support your business!
Vehicle wraps spread positive impressions of your brand.
Many of our clients communicate to us that their own customers were under the impressions that their uniquely designed vehicles were "making deliveries" at the times they were first seen. Because the vehicles were so visible with brand imaging, their viewers were made to believe that the businesses were in the middle of providing services and/or delivering products. In other words, vehicle wraps are signs of successful companies.

If you want to get your brand noticed – and noticed in a way that gives off a good impression – and noticed in a way that will prove to be a very cost-effective choice – vehicle wraps are for you!

The vehicle wrap experts at Stellar Signs & Graphics serve the business communities in and around Palm Beach County, West Palm Beach, Royal Palm Beach, Wellington, Lake Worth, Boynton Beach, and Greenacres, Florida. Please don't hesitate to give us a call at 561-721-6060 today!


Tags: vehicle graphics, vehicle lettering, vehicle wraps, Vehicle Wraps and Lettering


Categorised in: Van Wraps, Vehicle Graphics, Vehicle Graphics Palm Beach County FL, Vehicle Vinyl Lettering, Vehicle vinyl window perf, Vehicle Wraps, Vehicle Wraps Palm Beach County FL

This post was written by Bonnita Calhoun