29
Sep
2020
Published by Bonnita Calhoun Comments Off on What Are The Benefits Of Using QR Codes In Your Marketing?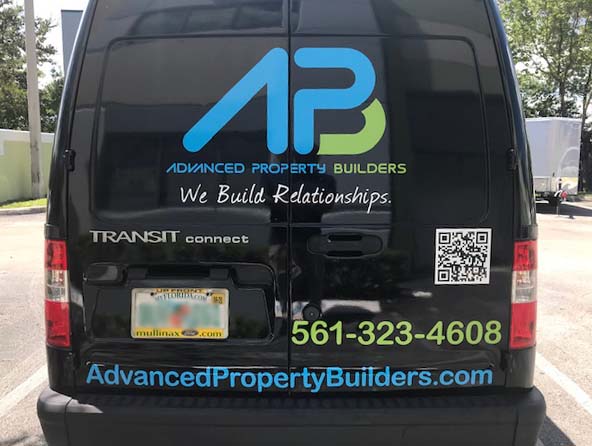 A couple of weeks ago, we blogged about the recent vehicle wraps and lettering job we did for West Palm Beach, Florida's Advanced Property Builders. We pointed out that, as part of the designs for their Ford Transit Connect van and its ten-foot cargo trailer, QR codes were included. Have a look at the photos included both above and below!
What is a QR code?
QR code is short for "Quick Response" code. It is a type of matrix barcode that was first designed for the Japanese automotive industry in 1994. Today, QR codes are commonly seen as parts of marketing materials from businesses of all kinds. They come in the form of black squares arranged in square grids on white backgrounds. The codes can be read by such imaging devices as a smartphone.
Once scanned, a QR code will either give you more information about a product or service or take you to a company's website. "Scanning a QR code can lead to a signup page or any landing page/website," explains Smart Insights, "This removes the hassle of going through the process of accessing the website and navigating your way around the page."
QR codes spread your brand messaging!
QR codes makes it so much easier for consumers to find your company online. Another big QR code benefit is that it is not intrusive. This can help to grow a brand's audience. Many consumers consider traditional advertising methods, such as telemarketing, to be intrusive. However, QR codes enable people to receive messages at their discretion.
"This is exciting because the user will only receive the message once the QR code has been scanned," notes Smart Insights, "Sending messages through QR codes benefits SMS marketing the most. It can be used for sales, user support, on-request product upgrades, and opt-in SMS registration."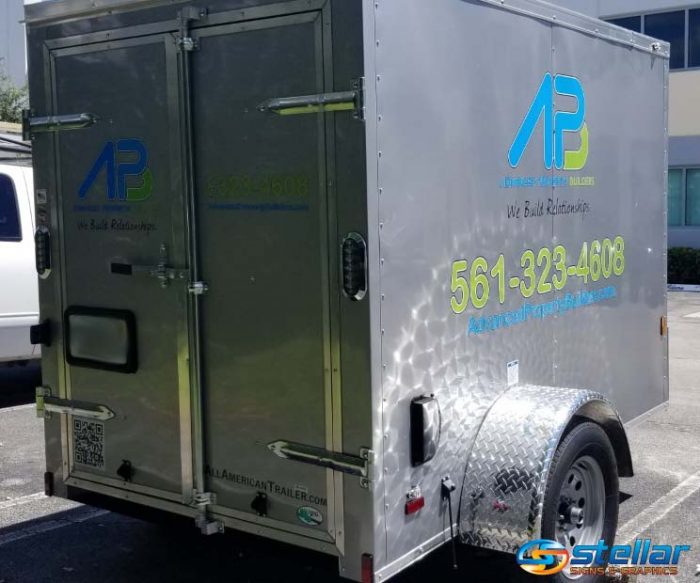 QR codes are trackable!
Have you ever advertised in a newspaper or magazine? By today's standards, such marketing methods seem archaic, don't they? In addition to the fact that those media aren't so popular anymore, the traction gained from such ads weren't trackable. With QR codes, however, you can track results based on scans! That way, you know exactly how impactful your marketing methods are.

Let's get to work on a signage project that includes a QR code and direct more people to your business! The experts at Stellar Signs & Graphics serve the business communities in and around Palm Beach County, West Palm Beach, Royal Palm Beach, Wellington, Lake Worth, Boynton Beach, and Greenacres, Florida. Give us a call at 561-721-6060 today!


Tags: Advanced Property Builders, advertising, Florida, marketing, QR codes, vehicle wraps, Vehicle Wraps and Lettering, West Palm Beach


Categorised in: QR Codes, Vehicle Vinyl Lettering, Vehicle Wraps, Vehicle Wraps Palm Beach County FL

This post was written by Bonnita Calhoun