7
May
2019
Published by Bonnita Calhoun Comments Off on Why It's So Important To Refurbish Your Storefront Sign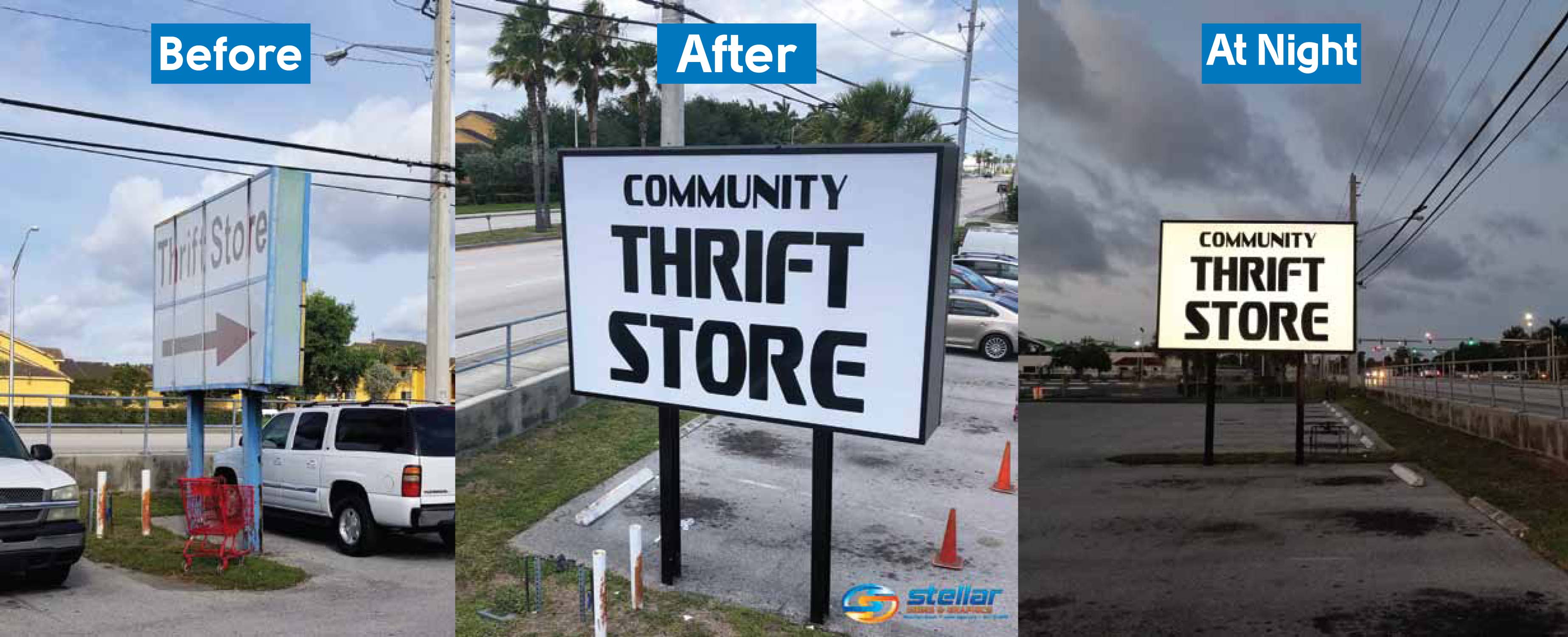 The signage experts at Stellar Signs & Graphics recently had the pleasure of completely redesigning and developing a new sign for Community Thrift Store. As you can see in the photo above, the previous sign in front of the store left a lot to be desired. It was dilapidated, rusted and almost looked like it was about to fall over at any minute! As a result, the sign was no longer serving its purpose.
Effective signage doesn't simply inform the public about a store's location. It should communicate a message about what type of store is in the vicinity. Is it a live, vibrant and successful business? Or is it a rundown, less-than-appealing entity that's best to stay away from? Obviously, the Community Thrift Store decided to not just refurbish its sign but enhance the image of the brand. We're so glad we were chosen to help them.
You don't get a second chance to make a great first impression.
Remember that, in many cases, passers-by may be seeing your storefront sign for the first time. If the sign gives the impression that one should stay away from your business, don't assume that onlookers will give you a second look. Vistaprint.ca puts it plainly when it notes that first impressions are lasting impressions.
"The banners, posters and signs you put around your shop are often your first opportunity to engage with the buying public," says the site, "This is your chance to project the image you want potential customers to have of your business. People will judge the inside of your shop by how it looks on the outside. So, the overall style and messaging on your shopfront signs will affect whether people come in for a look or walk past."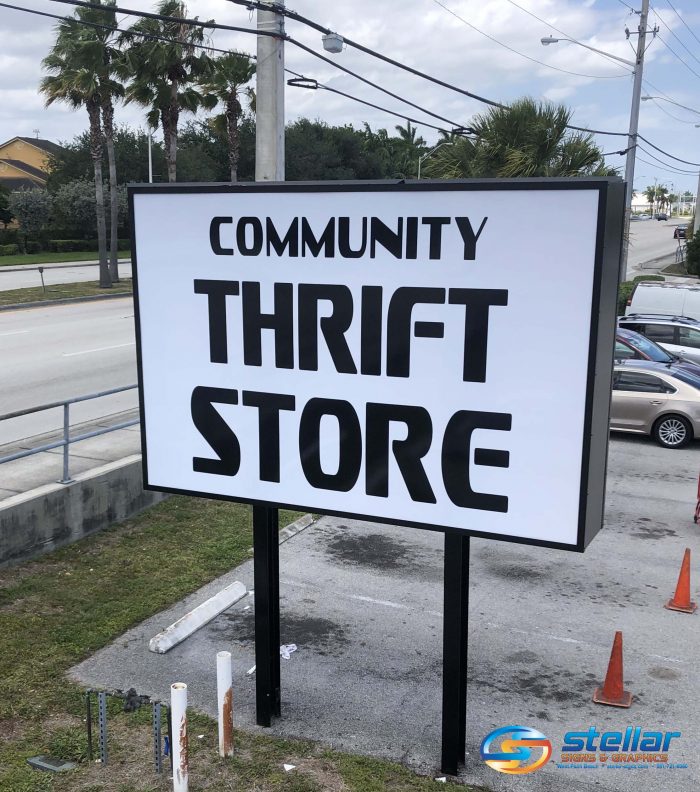 Your signage is a reflection of your products and services.
As we pointed out earlier, your sign does a lot more than just tell people where you are. It tells people whether or not they should give you their support. On CashierLive.com, Tom Greenhaw explains that poor signage has a negative effect on consumer behavior.
According to a FedEx study, "68 percent of customers believe that a store's sign is a reliable indicator of the company's products and services," reveals Greenhaw, "In other words, customers believe that a company with a badly designed or unattractive sign will offer an inferior product or unprofessional service."
Does your storefront sign need refurbishing?
The experts at Stellar Signs & Graphics serve the business communities in and around Palm Beach County, West Palm Beach, Royal Palm Beach, Wellington, Lake Worth, Boynton Beach, and Greenacres, Florida. Give us a call at 561-721-6060 today!


Tags: Community Thrift Store, sign refurbishing, sign restoration, storefront signage, storefront signs


Categorised in: Sign Refurbishing, Sign Restoration

This post was written by Bonnita Calhoun