12
Mar
2019
Published by Bonnita Calhoun Comments Off on How Vehicle Wraps Win The Race In Revving Up Business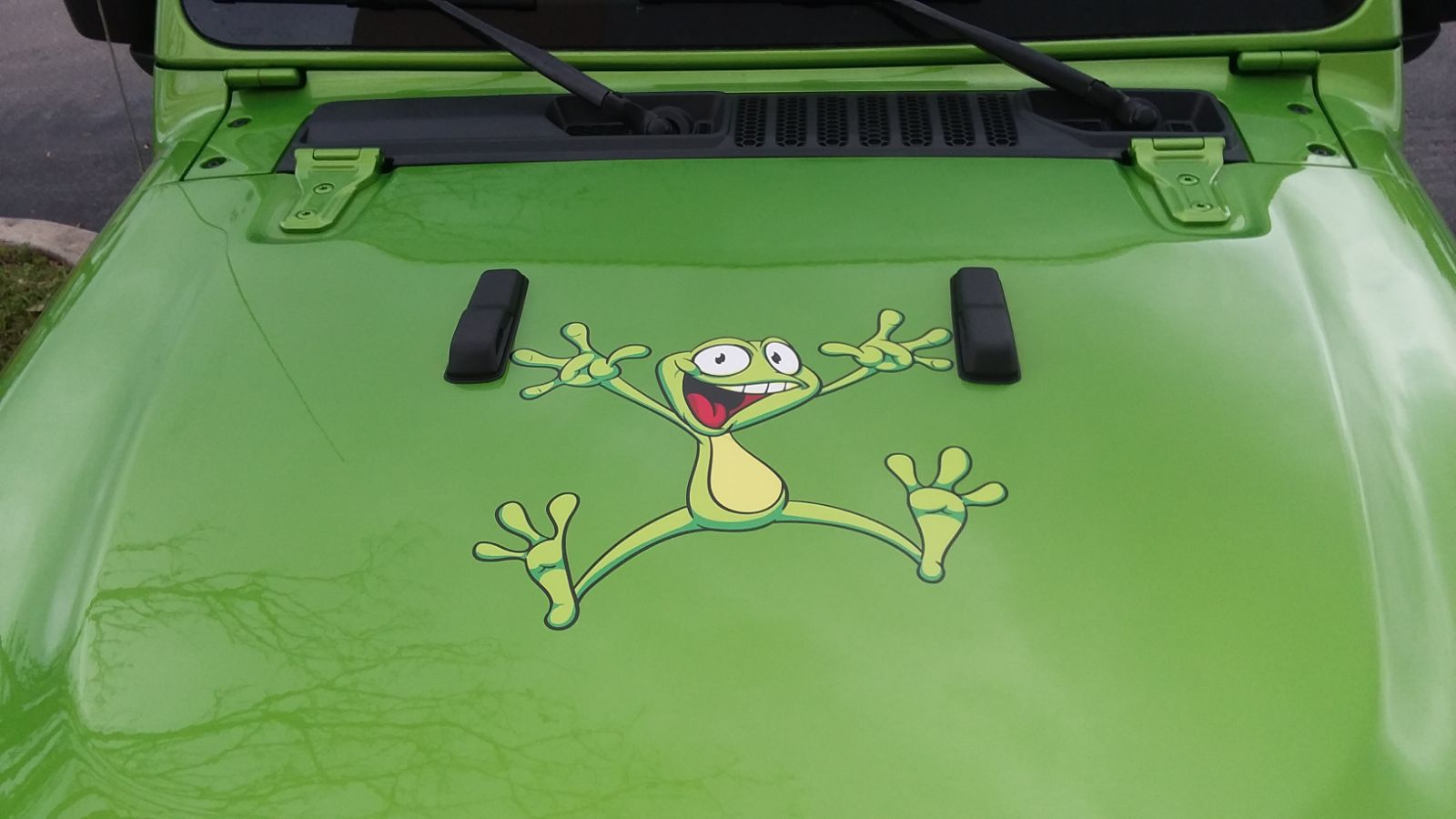 Not every single project completed by the signage experts at Stellar Signs & Graphics is for business purposes. As showcased in the above photo, we sometimes enjoy opportunities to work on projects of personal natures. We recently had the pleasure of manufacturing a super cute frog print, which was made up of laminated and cut vinyl, and installed it onto the hood of a Jeep! It made for an adorable, eye-catching addition to the matching green vehicle.
Although vehicle wraps and lettering can be utilized for a wide variety of personal projects, they're widely regarded as the most effective forms of advertising in the business world. In many of our past blogs, we've highlighted the fact that vehicle wraps give advertisers more bang for their bucks than any other form of signage. At just 35 cents per 1,000 impressions, vehicle wraps truly win the race in revving up business!
They possess limitless attention-grabbing qualities.
As is obvious, a vehicle wrap can provide advertising power to a limitless number of physical locations. Effectively a moving billboard, a vehicle designed with a wrap or vinyl lettering project can promote a business in whatever area it is driven to. Not to mention, the bright color quality of most vehicle wrap designs turn heads – literally!
Solid color vehicles are the norm. We expect to see them on the road every day. Vehicle wraps, on the other hand, help cars, vans or trucks stand out from all of the other vehicles in their surroundings. Drawing attention, quite clearly, is a key component to effective advertising.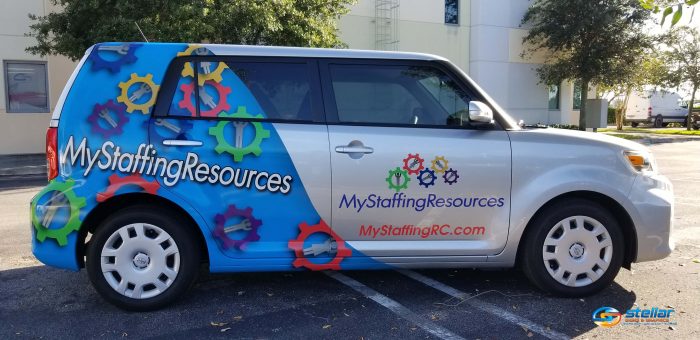 They provide non-aggressive in-your-face advertising.
Can advertising be "in your face" and "non-aggressive" at the same time? Well, let's compare them to television commercials. If you're in the middle of watching your favorite show, you pretty much have no control over it being interrupted by advertisements. When you're using the internet, you commonly have to sift through pop-up ads on websites and spam in your email inbox.
In contrast, vehicle wraps are very noticeable even though they don't insist upon your gaze. They are eye-catching, yet subtle ways of requesting the attention of onlookers. Consumers find vehicle wraps pleasing because they can be viewed without taking the viewer away from what he/she is doing.
Let's get working on a vehicle wrap project for your business!
The experts at Stellar Signs & Graphics serve the business communities in and around Palm Beach County, West Palm Beach, Royal Palm Beach, Wellington, Lake Worth, Boynton Beach, and Greenacres, Florida. Please don't hesitate to give us a call at 561-721-6060 today!


Tags: advertising, effective advertising, moving billboards, vehicle wrap designs, vehicle wraps, Vehicle Wraps and Lettering


Categorised in: Vehicle Graphics, Vehicle Graphics Palm Beach County FL, Vehicle Vinyl Lettering, Vehicle Wraps, Vehicle Wraps Palm Beach County FL

This post was written by Bonnita Calhoun