2
Aug
2022
Published by Bonnita Calhoun Comments Off on Preparing For The New School Year With New Signage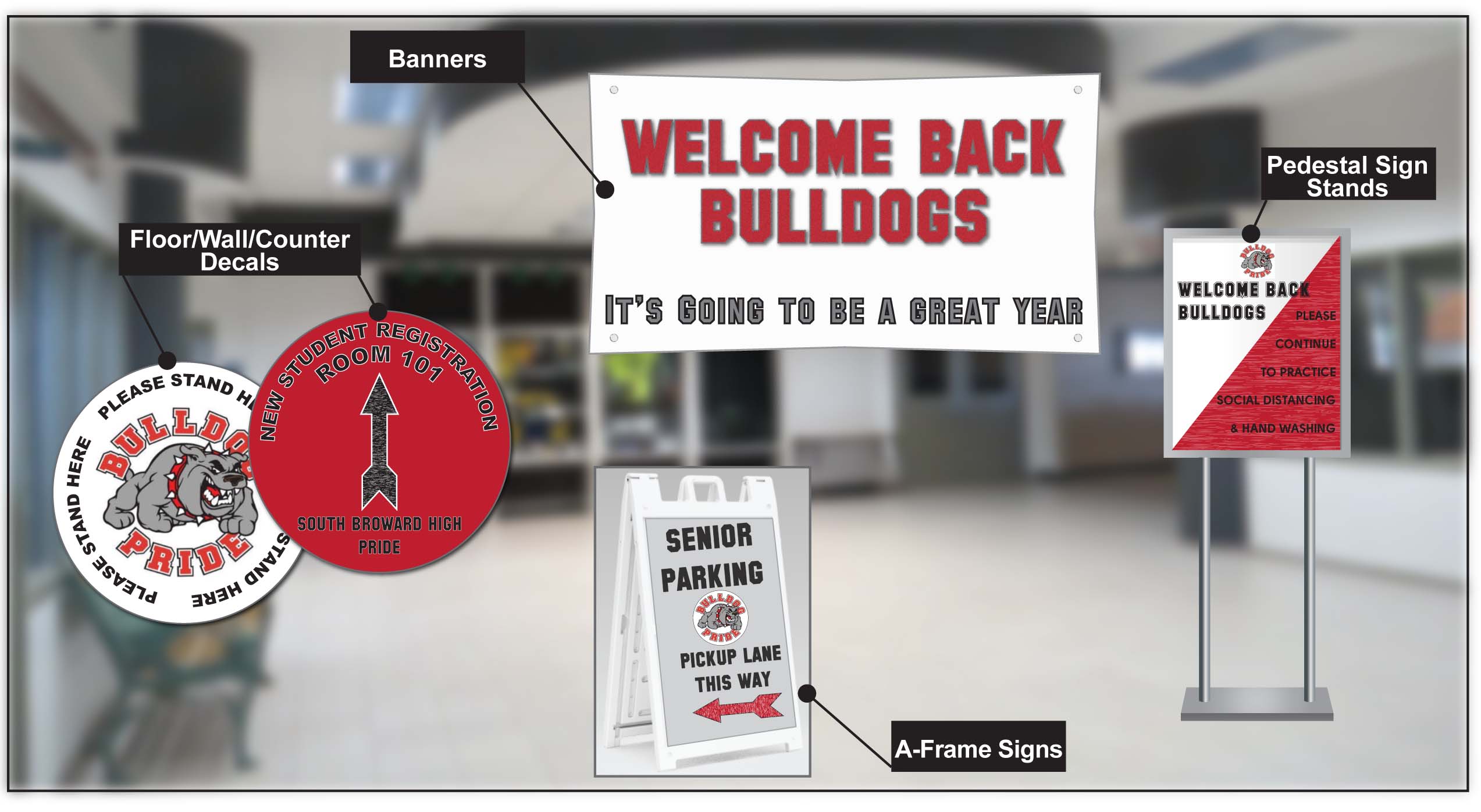 We know that the month of August only just started. But it's important that we remind you that back to school season is right around the corner! Right now is the perfect time for your school to invest in some ever-important signage. There is a variety of signage options that your elementary school, high school, college or university can take advantage of. Among them are banners, pedestal sign stands, A-frame signs and floor, wall and counter decals.
Place banners throughout your school.
Banners are important tools for any academic atmosphere because they are extremely effective in spreading awareness about upcoming events. Vinyl-based banners are incredibly durable as they are waterproof and resistant to weather elements. Often displayed outside of schools for students, parents and faculty to see from afar, banners are loudly informative. They're also great at boosting school spirit. Displaying a banner with your school's name, logo, mascot and motto is a great way to start the school year.
Set up some pedestal signs.
Pedestal signs are incredibly useful forms of signage as they can easily be changed from one day to the next. Placing them in hallways and outside of classrooms, they can be exceptionally helpful as way-finding solutions. Clarifying the locations of classrooms or simply passing along useful information (such as ongoing COVID-19 protocols) are two great ways to take advantage of pedestal signs.
Position A-frame signage anywhere you like.
A-frame signs are lightweight and portable, making them incredibly easy to place anywhere throughout your school. They can service as direction providers, helping students and faculty to find the rooms they're looking for. As well, they are excellent space savers, when not in use. An A-frame sign can easily close up so that it can be stored flat.
Affix decals to any surface.
Decals have a ton of different uses. Floor decals can highlight where people need to stand in line ups. They can also display arrows to direct people to their desired locations. As well, decals can be used to share safety information and promote upcoming events. Not to mention, these forms of signage are incredible space savers too. Because they are flat, they never obstruct foot traffic. They can be placed anywhere inside or outside the school without getting in anyone's way.
Let's work together to design some signage for your school!
The experts at Stellar Signs & Graphics serve the business communities in and around Palm Beach County, West Palm Beach, Royal Palm Beach, Wellington, Lake Worth, Boynton Beach, and Greenacres, Florida. Please don't hesitate to give us a call at 561-721-6060 today!


Tags: A-frame signs, back to school, banners, floor graphics, school, school signage, school signs, signage, signs, wall signs, Wayfinding Signs


Categorised in: A-Frame Signs, Banners, Floor Graphics, School Signs, Wall Signs, Wayfinding Signs

This post was written by Bonnita Calhoun