9
Mar
2021
Published by Bonnita Calhoun Comments Off on Providing The ONE+ONE Wealth Management Office With A Double Upgrade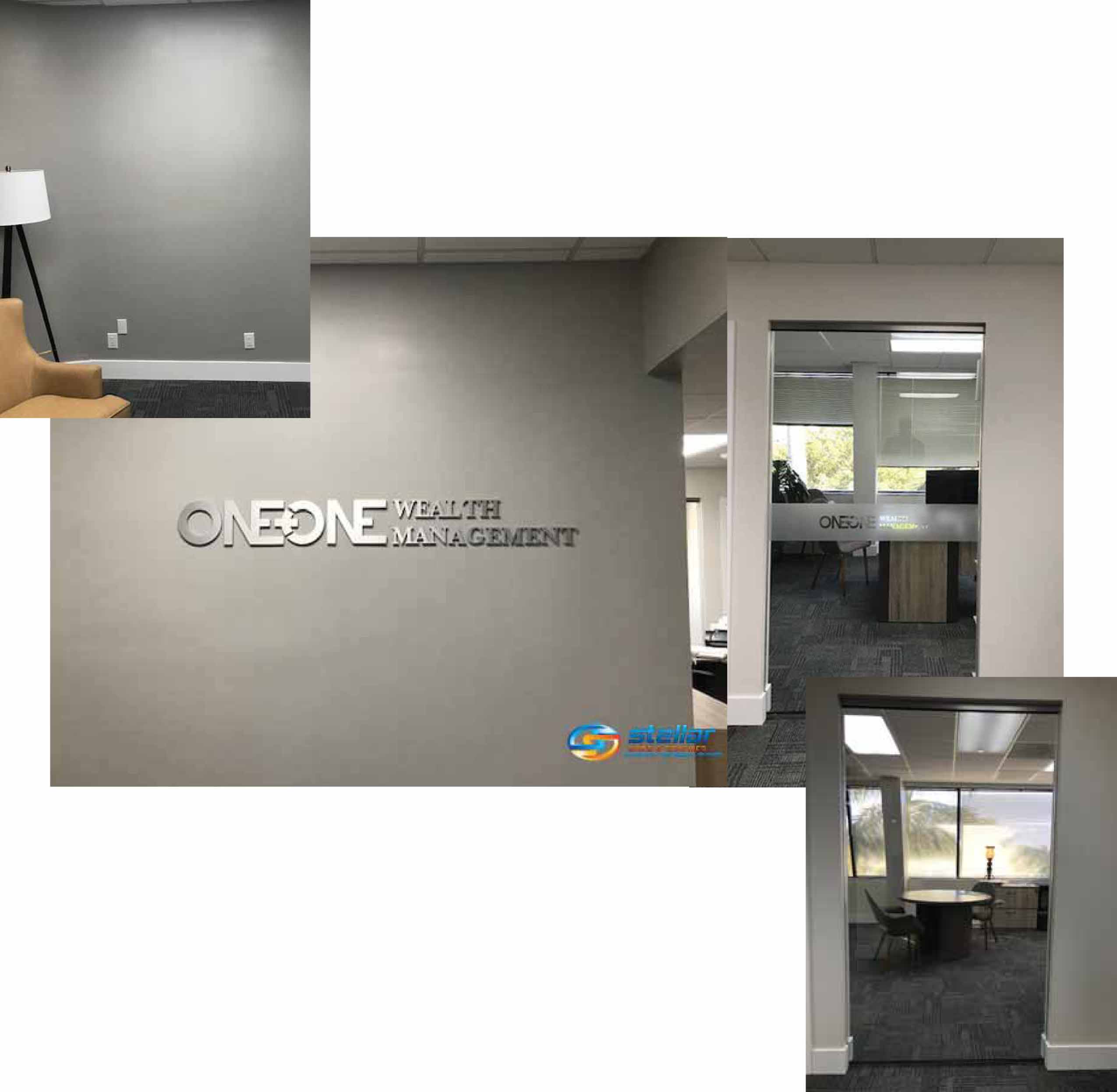 ONE+ONE Wealth Management is a nationwide firm based in Jupiter, Florida. Their focus is to help their clients prepare for both the financial risks they're aware of and the ones they aren't. The incredible ONE+ONE team provides assistance to people from all walks of life. Families, business owners, retirees and recently widowed women all make up the members of their client base.
The objective of ONE+ONE Wealth Management is simple. It is to help their clients reach their goals through thoughtful planning and stable investment returns. This is accomplished using what is aptly referred to as the ONE+ONE Method™. It is their truly innovative approach to planning and implementing evidence-based investment principles in order to help deliver decisively better outcomes for their clients.
Check out our new project for ONE+ONE Wealth Management!
The Stellar Signs & Graphics team was happy to recently work with ONE+ONE Wealth Management on a signage project for their office. As displayed in the photo above, their office used to contain a bare wall and a plain glass door. Of course, the look was clean, but had nowhere near the branding power it does now.
Our team provided the ONE+ONE Wealth Management office with two significant upgrades. Firstly, we beautified their bare wall with a lobby sign. It is comprised of Dimensional Aluminum Wall Lettering that bears the company's logo. The dimensional lettering of their logo was mounted to the wall with 3M high bond tape.
Secondly, we updated the plain glass door with window graphics made up of Office Window Etched Vinyl. In fact, we completed four office windows with Etched Cut Vinyl with the ONE+ONE logo cut out. Not only did the completion of this signage option give the office a more charming and professional appeal, it prevented their clients from walking into the glass!
Check out the image above. You can tell from the before photo of the glass that it was incredibly clean. As a result, it was sometimes mistaken for an open space. We're glad our latest project is going to serve double duty as a brand-booster and an accident-preventer!
Could your office use an upgrade?
Please don't hesitate to contact the Stellar Signs & Graphics team to discuss the lobby sign, window graphics or other signage idea of your choice! As we pointed out in a blog last month, a sleek and stylish lobby sign bearing the name and logo of your company works wonders in conveying your brand's level of prestige. And, in another of last month's blogs, we highlighted the amazing marketing power of window graphics and lettering.

We proudly serve the business communities in and around Palm Beach County, West Palm Beach, Royal Palm Beach, Wellington, Lake Worth, Boynton Beach, and Greenacres, Florida. Give us a call at 561-721-6060 today!


Tags: Dimensional Lettering, Dimensional Letters, Dimensional Wall Letters, Lobby Signs, logo signs, ONE+ONE Wealth Management, window graphics, Window Lettering


Categorised in: Dimensional Lettering, Dimensional Letters, Dimensional Wall Letters, Lobby Signs, Logo Signs, Window Graphics, Window Lettering

This post was written by Bonnita Calhoun