3
Mar
2020
Published by Bonnita Calhoun Comments Off on Vehicle Wraps And Lettering Provide A Wild Way To Stand Out!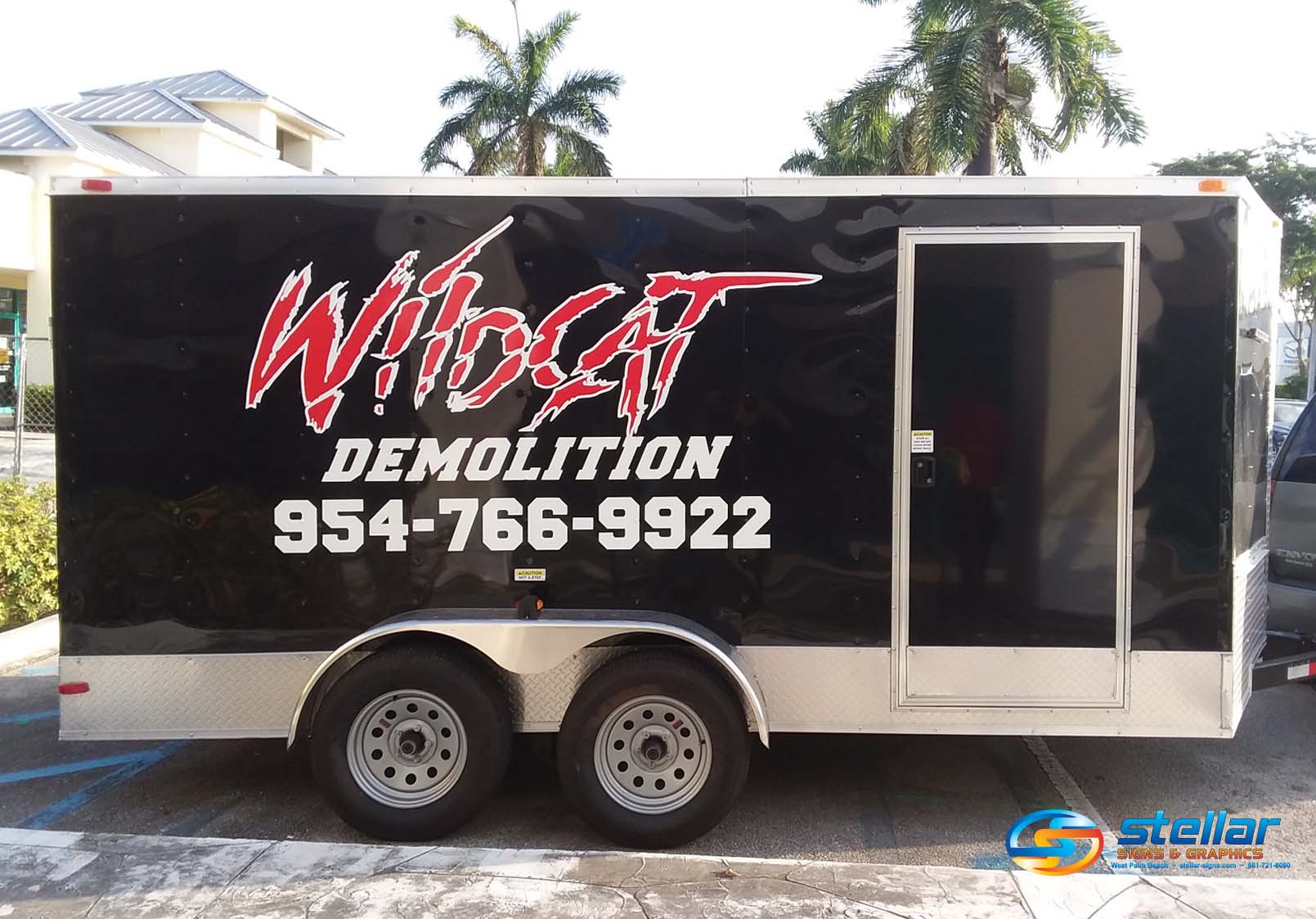 Founded in 1980, Wildcat Demolition specializes in large, management-intensive demolition projects. Offering turnkey packages from environmental remediation to implosion, Wildcat is renowned throughout Southeast Florida for their technical expertise, productivity, reliability and track record. No other demolition company in the region can claim such a celebrated four-decade history.
Check out the new Wildcat Demolition trailer!
The signage experts at Stellar Signs & Graphics were privileged to be able to work with Wildcat Demolition on a recent vehicle wraps and lettering project. We took their trailer and created a sleek and simple wrap showcasing their company logo and phone number. Our team used a full color print with 3M IJ40C vinyl and 3M 8509 lamination. As you can see from the photos both above and below, the end result is a definite eye-grabber.
Our friends at Wildcat Demolition will soon be the recipients of the type of recognition only vehicle wraps can garner. Studies have shown that this advertising medium gives companies the best bangs for their bucks. Statistically, advertisers pay only 35 cents per 1,000 impressions with vehicle wraps. Compare that to $3.56 per 1,000 impressions for traditional, non-moving billboards.
Durability is another key benefit of vehicle wraps.
One's bang for his/her buck becomes that much louder – so to speak – when you consider the longevity that vehicle wraps are known to have. The high-quality vinyl materials used for our projects are incredibly durable and resistant to extreme heat, inclement weather and standard wear and tear.
The strong adhesives we use are particularly designed for outdoor use. This ensures that the graphics won't easily peel or bubble up. Our graphics are also chemically treated to make sure they are both flexible and water resistant.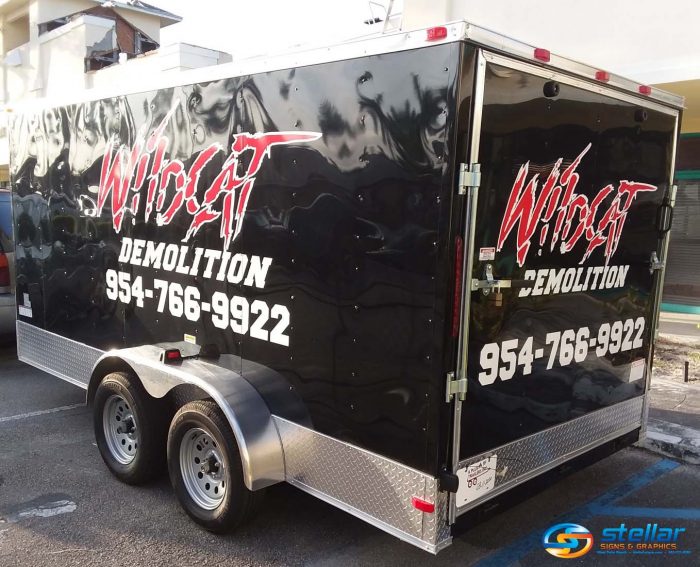 Vehicle wraps can actually improve resale value.
By adding a vehicle wrap to your company car, truck, van, boat or trailer, you also protect its original paint job. By doing so, you actually add to its resale value. As mentioned, our high-quality vinyl wraps are long-lasting, so they can offer protection for years. However, they can also be easily removed in the event you wish to part ways with your vehicle and get as much money for it as the industry will allow.

Let's get working on a vehicle wrap for your company vehicle! The experts at Stellar Signs & Graphics serve the business communities in and around Palm Beach County, West Palm Beach, Royal Palm Beach, Wellington, Lake Worth, Boynton Beach, and Greenacres, Florida. Give us a call at 561-721-6060 today!


Tags: advertising, cost per impressions, moving billboards, signage, signage experts, trailer, vehicle wraps, Vehicle Wraps and Lettering, Wildcat Demolition


Categorised in: Vehicle Graphics, Vehicle Graphics Palm Beach County FL, Vehicle Vinyl Lettering, Vehicle Wraps, Vehicle Wraps Palm Beach County FL

This post was written by Bonnita Calhoun