10
Nov
2020
Published by Bonnita Calhoun Comments Off on Continuing To Advertise Your Company…The Wright Way!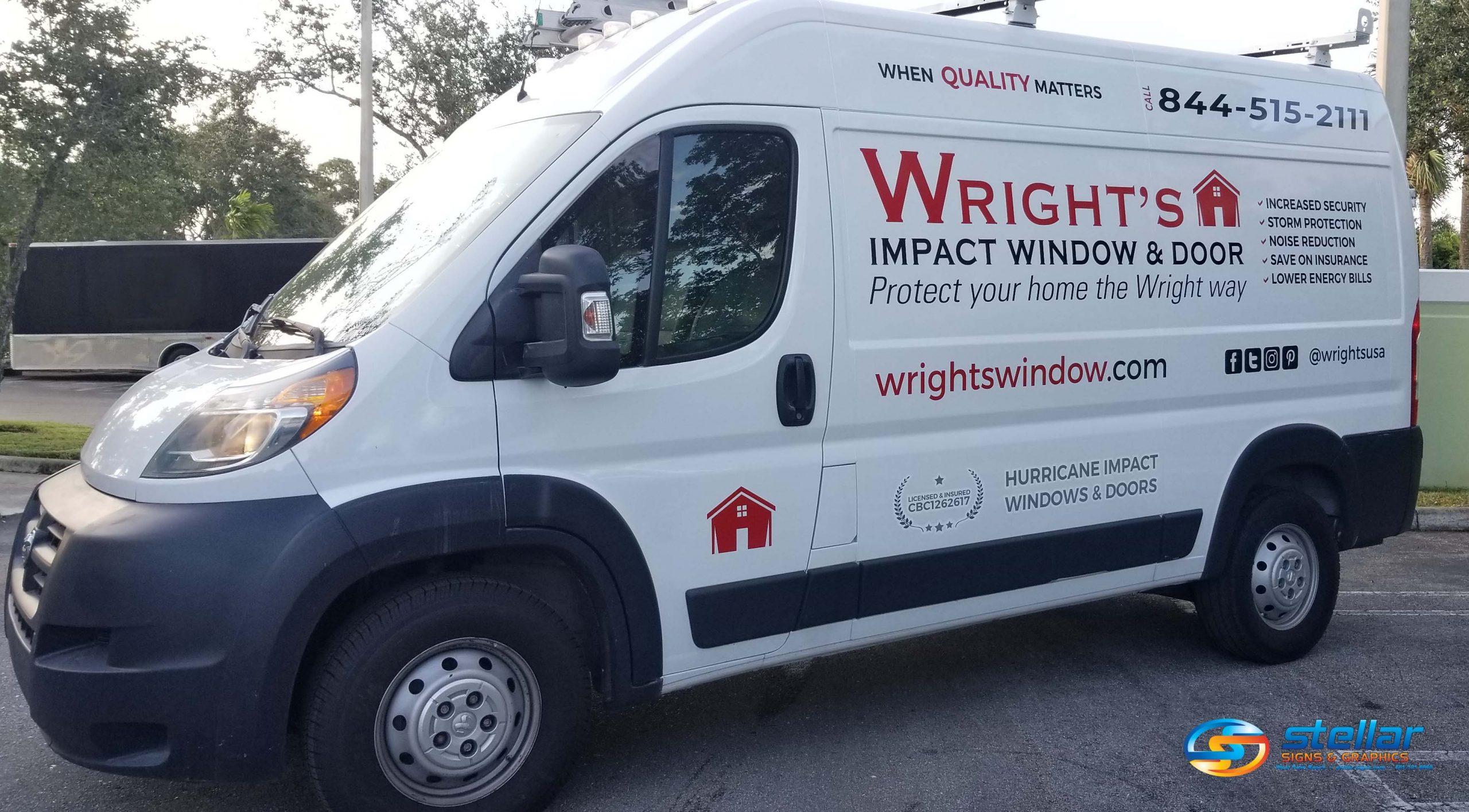 With 47 years of experience and counting, Wright's Impact Window & Doors knows how to protect your home the "Wright" way. This great company and long-time client of Stellar Signs & Graphics works with only the best impact window and impact door manufacturers. They each have long-standing reputations in excellence. As a result, Wright's provides customers with incomparable products. They even offer low prices to boot!
Exactly a year ago, we proudly blogged about completing a full vehicle wrap on a Wright's Impact Window & Doors truck. We also finished a lettering/print cut job on their trailer. We're happy to announce that we just wrapped up (pun intended) a brand new wrap project for their Dodge van. As you can see in the photos both above and below, the design is complete with all of the company's branding and contact information.
Now that's a van with marketing power!
Just imagine the impact (pun also intended) of the Wright's Impact Window & Doors van as it cruises around South Florida. In its original plain white state, the van would blend in with all other traffic and catches the attention of no one. With the completed vehicle wrap, the van now attracts eyes and skilfully informs onlookers all about the business.
Along with the company's name and logo is its website and social media handles. In 2020, providing this information is imperative for companies wanting to attract larger audiences. Of course, the Wright's Impact Window & Doors phone number is also clearly visible.
Another great aspect of the design, however, is the listing of the benefits that come with the company's services. Increased security, storm protection, noise reduction and lower energy bills are among them.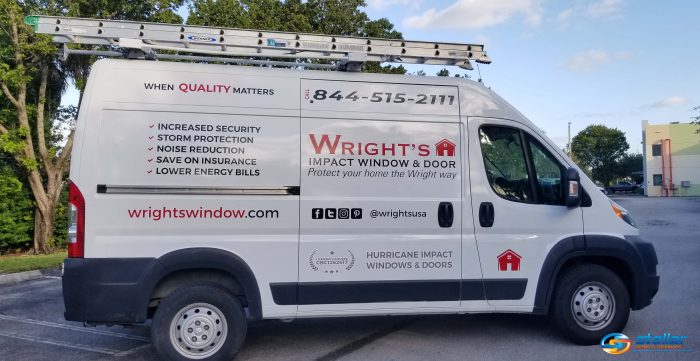 How was this branding project manufactured?
For the new Wright's Impact Window & Doors vehicle wrap, we used cut 3M color vinyl in red, black and gray. What colors would work best for a branding project for your business? Remember that a vehicle wrap provides you with a 24/7 advertising source. It works around the clock to bring your business the attention it deserves. As a result, vehicle wraps are known as the most effective form of "out of home" advertising available.
"The Outdoor Advertising Association of America classifies wrap advertising as a form of 'out of home' advertising," informs Suzanne Kearns on Intuit.com, "The agency says that vehicle advertising can be the most effective and efficient form of out of home advertising, reaching more consumers at a lower cost per thousand impressions than any other form of advertising."
Let's get working on a vehicle wrap for your business!
The experts at Stellar Signs & Graphics serve the business communities in and around Palm Beach County, West Palm Beach, Royal Palm Beach, Wellington, Lake Worth, Boynton Beach, and Greenacres, Florida. Give us a call at 561-721-6060 today!


Tags: advertising, branding project, marketing, van wrap, vehicle wrap, vehicle wraps, Vehicle Wraps and Lettering, vinyl lettering, Wright's Impact Window & Doors


Categorised in: Van Wraps, Vehicle Graphics, Vehicle Graphics Palm Beach County FL, Vehicle Vinyl Lettering, Vehicle Wraps, Vehicle Wraps Palm Beach County FL

This post was written by Bonnita Calhoun